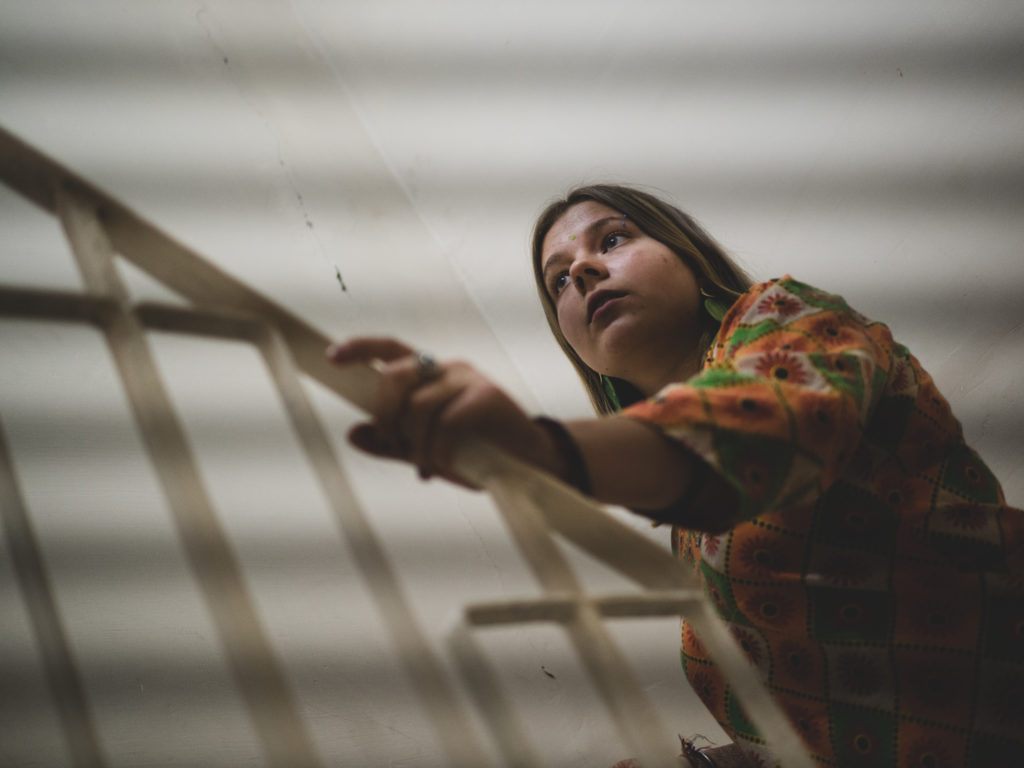 Emma, a 19 yo young women from Berlin, Germany, is coping with a heartbreak. The Women's Empowerment Center where she volunteered suddenly closed to be re-localised. Sambhali Trust currently has 7 empowerment centres in the city of Jodhpur, Rajasthan, that volunteers attend on a daily basis. The Jodhpur Empowerment Center went through difficult times and a strategic decision had to be made, making her "adoptive" family fall apart.
The thing is: people have really big hearts here. Emma's first hand experience with the local Indian culture quickly taught her that. Since 7th grade, Emma had always wanted to give her time and energy for a good cause. Back then, she only knew Unicef and other big organisations and thought she would go somewhere to build houses. This was before she heard through friends, who had volunteered overseas, that many other options existed. So just after finishing high school, Emma looked for and found a 6 months volunteering experience abroad that would change her heart for ever. She found Sambhali and chose it because the volunteering empowerment programs were not just about teaching English, but also spending time with people, conducting workshops and creating that safe space for women to thrive.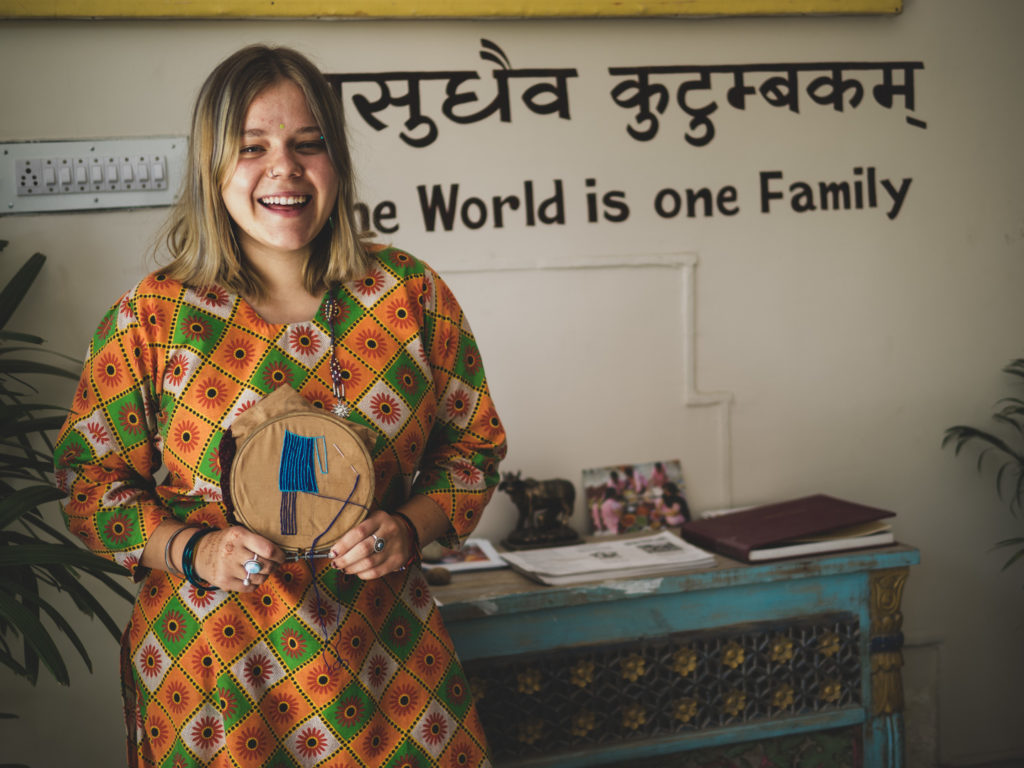 After 4 months of spending hours on end with the women and children enrolled in the various education and empowerment programs run by Sambhali in the impoverished neighbourhoods of Jodhpur, Emma's ideas of India and of her own culture have taken an insightful twist. According to Emma: "The most important thing I learnt here is that sharing is caring. No matter what you have, share it with whoever wants it. Even if you don't have a lot, you still share what you have. People here have so little, and they give you so much. Even though they have so little, they would choose to give you something because it makes them happy, they are so full of love and energy. Even though they know you could afford it, they give without thinking twice about it. While back home we are fighting for 1 euro when splitting a restaurant bill."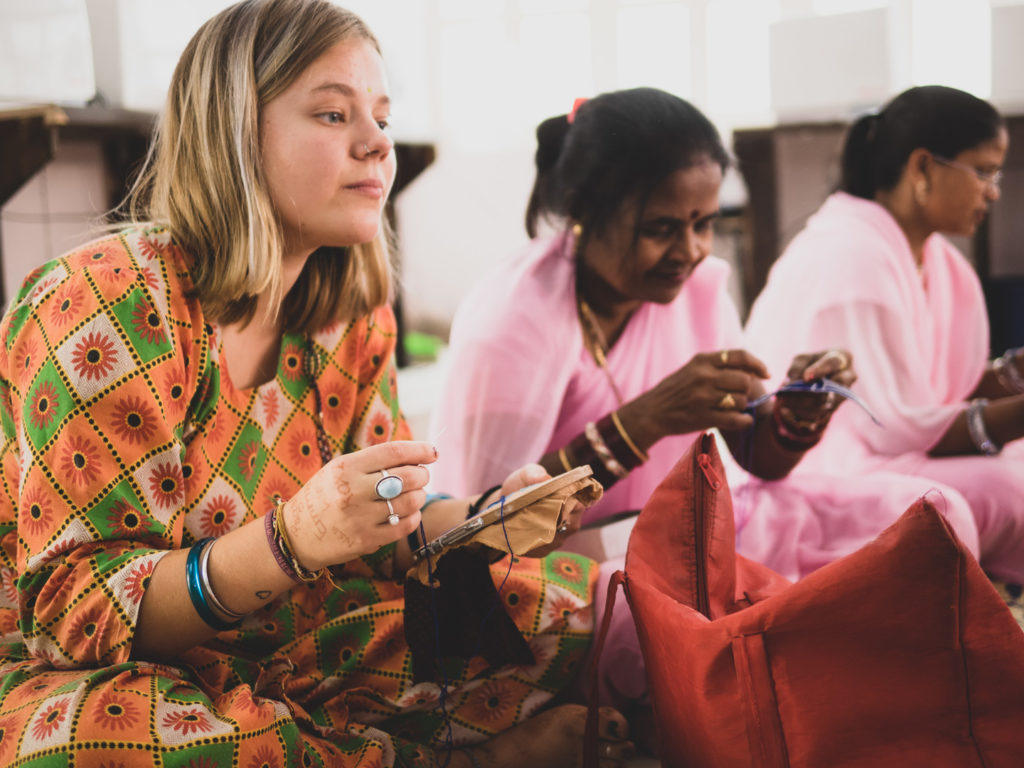 This brought Emma to reflect on what it actually means to be "modern" and her legitimacy to bring the western version of "modernity" to the people here. She says: "I realised that what we call being modern is a different way of living, not just really being modern. Truly, we are not so much developed as compared to the traditional Indian culture here. We are just different and I am not here to teach how the people should live but rather share my perspective and appreciate theirs. Then we can both learn from each other and we can be a perfect human being."
Having grown up in Germany, a country of plenty, Emma finds it hard to look at the injustice of her privileges: "I can give as much as I can but I see how they are being treated, how some kids are full of scars. Sometimes I don't not know how to deal with knowing that I can only help to a certain point and that at the end of the day, they are my sisters, my mothers and my kids, and they have to go home and face the same problems everyday. I really learned being grateful for what I have, who I can be and who my parents let me be. I know I can't change their lives, so I try to make their time at the center the most beautiful time of their day".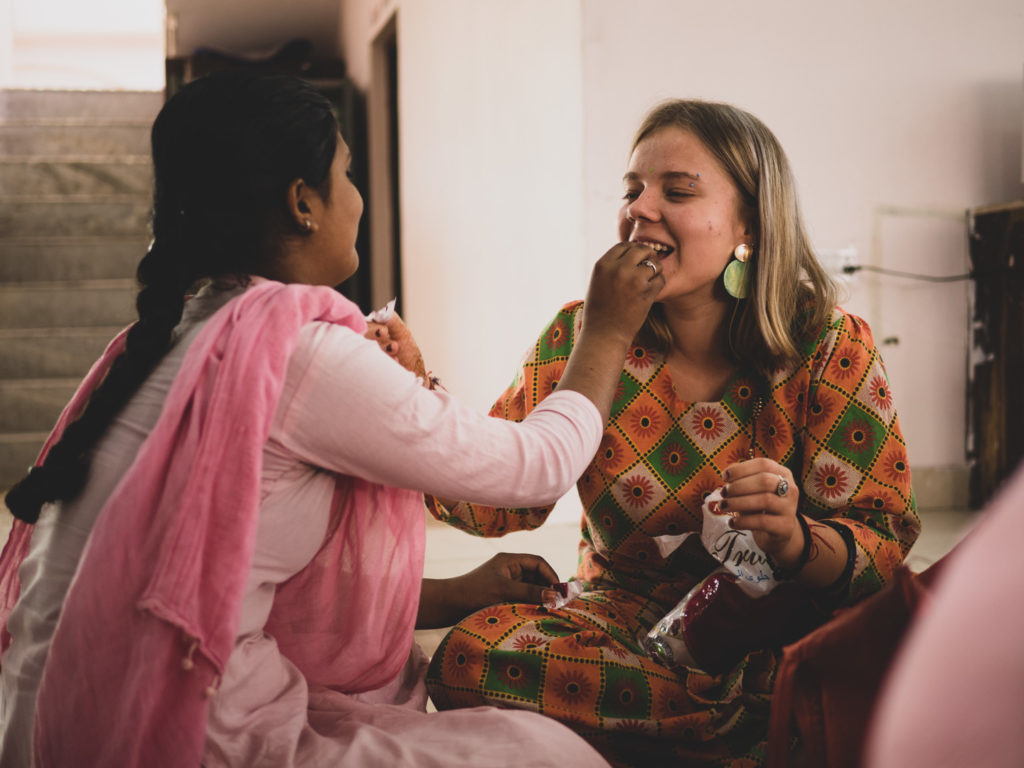 Emma is not the only one to have changed her perspective on India, her parents did too. At first they were a little worried about her going to a place often depicted by the media as extremely unsafe. "My parents were scared for me at first, but when they came to visit they were so happy here and now they want to come back and see more of India! My father went to my center and learned Indian dance with the boys. Now he still texts me regularly to ask how my kids are doing. My kids are also asking about my parents and how they are doing. Of course, bad things do happen, but it's not like you can't walk in the streets without getting into trouble. We also have to avoid doing certain things back home to be safe as a women really, and here, I was never scared." That being said, a lot of women and girls in Jodhpur and the surrounding Thar desert routinely experience discrimination, domestic violence and abuse.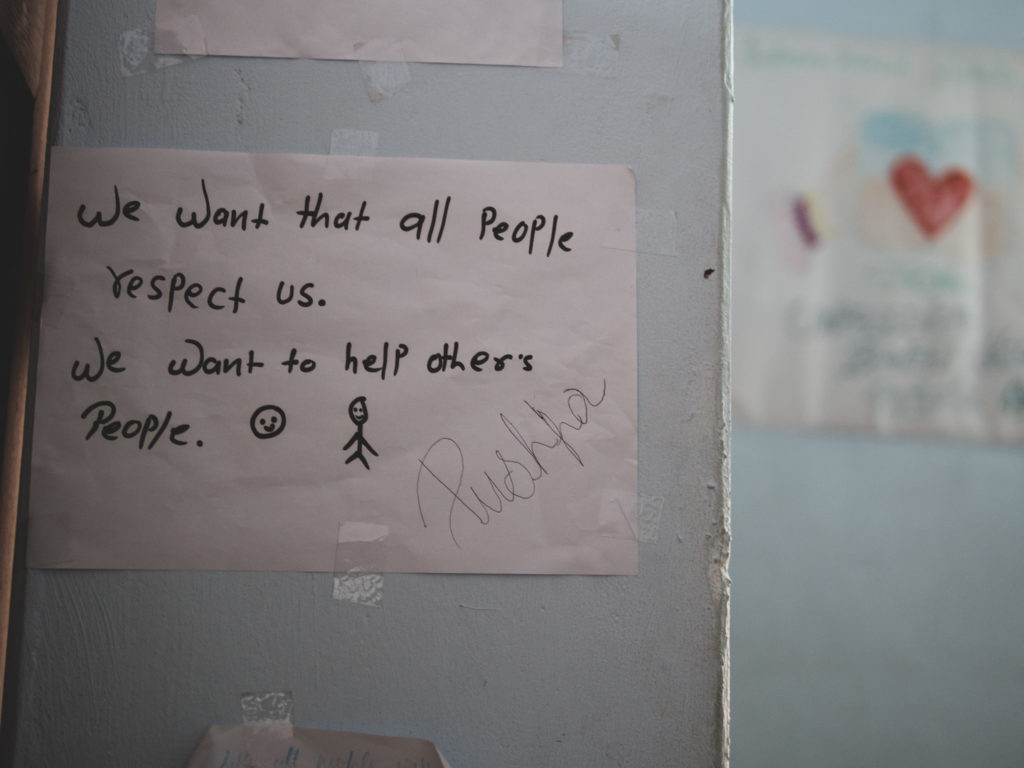 Female infanticide is rampant in the poorest families where girls are often considered a burden, a child in whom there is no point making any investment and for whom an expensive dowry will need to be paid. Rajasthan ranks 4th on the list of worst Indian states in terms of female-male ratio, with less than 850 girls for a 1000 boys. In the desert, when unwanted baby girls aren't buried alive in the sand dunes, neglect and healthcare withholding is as likely to be deadly. And when they make it to adulthood, it's more than often that their childhood has been robbed from them by the very long list of domestic duties. Out all day to fetching water and taking care of the animals, girls would often be dressed as boys, their hair cut short to avoid attracting unwanted attention.
Thanks to Sambhali and volunteers like Emma, women and girls from all castes and religions have a way out of poverty and abuse. They are able to get a decent education, learn English, maths and how to gain their financial independence. But most importantly, they are able to enjoy a safe space to simply be themselves, make jokes, dance, discover other cultures and topics they would not be able, or allowed, to access back home.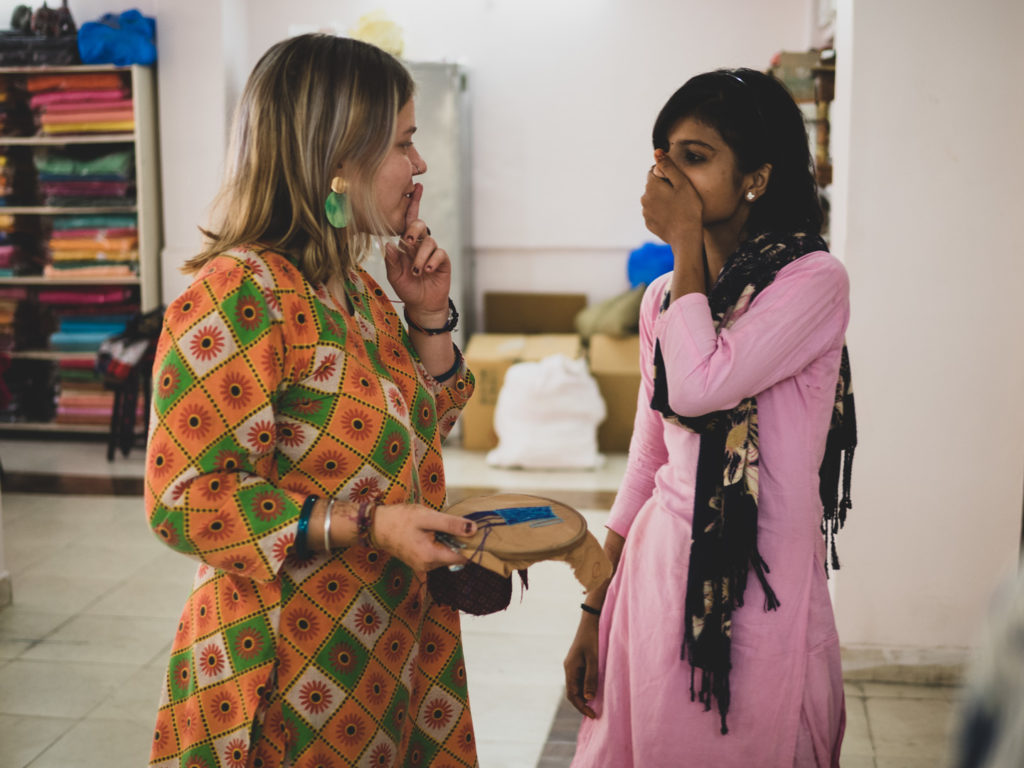 Doing her work as a volunteer, Emma embedded herself into the Sambhali Sisterhood and created deep bonds with many women and children at the Sambhali empowerment centres, boarding homes, and training centres. She learned Hindi with the help of her sewing teachers and the guest house staff and even some Marwari – the local language – with Ellia and the other girls at the Sheerni boarding home.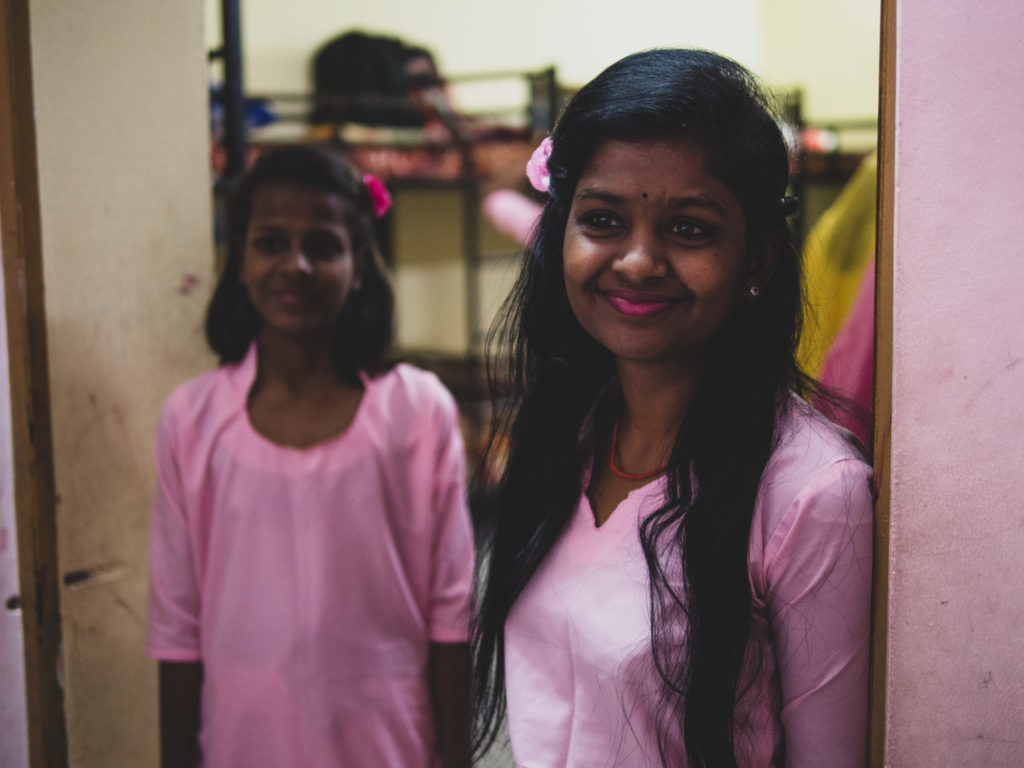 Like most of the Sheerni girls, Ellia came from the desert city of Setrawa as a young child to benefit from a conducive environment and attend a private school that will eventually take her to college. After that, her dream is to own and manage a hotel. Ellia refuses to think about Emma's last day coming up at the end of the month, she will miss her too much. And Emma is already planning to come back next year. Because she loved eating with her hands and sitting cross-legged even though her knees hurt. Because she made new sisters, adopted many children and was adopted by many mothers. Because she actually learned more than she taught.
Even though her center has closed, Emma will still get to see her Indian family very soon. Her sewing teacher, Aaaliyah, has already called every women and children in their former center to organise a get-together with Emma one more time.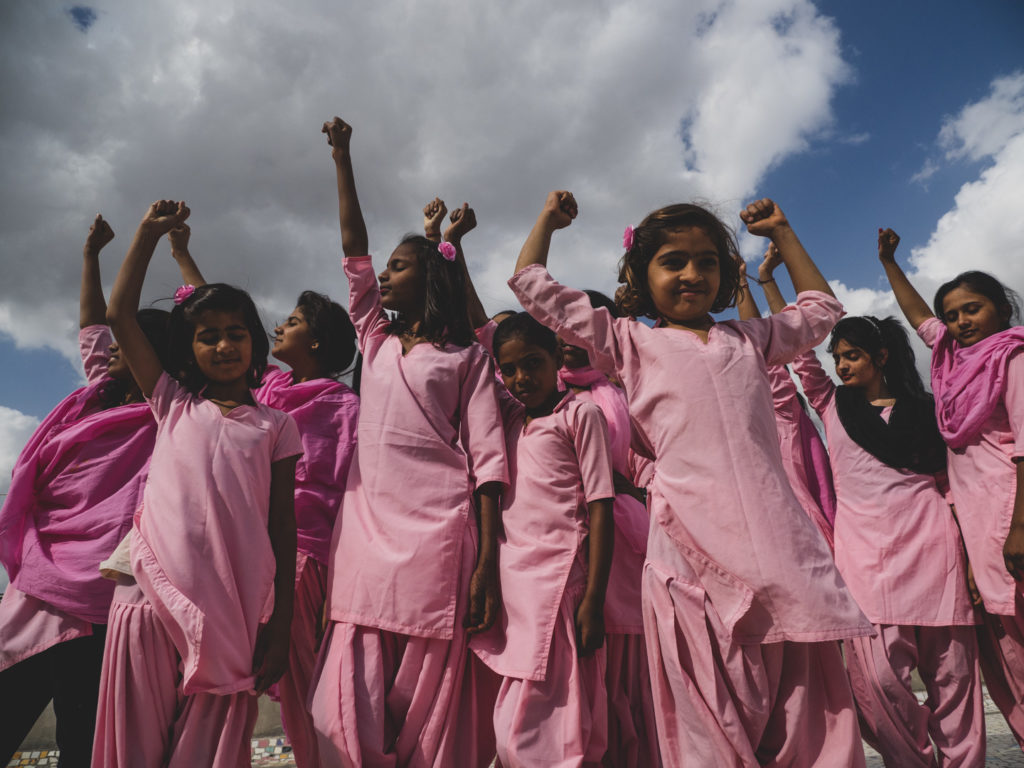 Sambhali Trust is a local, Family run NGO which empowers the women, girls and children facing extreme poverty and adversity, through education and entrepreneurship programs. As a volunteer like Emma, you bring a window onto the world, effective teaching methods, and friendship to our sisters and mothers… Are you ready? Join Sambhali as a volunteer and embark on your own journey now.
Can't volunteer ? Consider supporting women empowerment and girls education by contributing to provide sewing machines for the women's programs (that they keep afterwards) or sponsor a girl's education. Empower our mothers and sisters, make a donation
---